Last nights kickoff to the Summer Series couldn't have gone much better. I know there were some problems getting to Minnewaska because of accidents but I hope it didn't take away from your enjoyment of the evening. Weather was absolutely amazing for this time of year and I can see from finish times that it helped you all run a little faster than in past years. We had 205 finishers in the 3 mile run, 15 in the kids 1/2 mile and 17 in the kids 1 mile.
Course Map and Elevation from 2016 Patterson's Pellet Run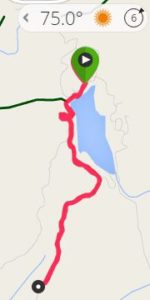 Next week we return to Minnewaska State Park for the beautiful, delicious and challenging Blueberry Run. Remember to bring back your bib from this week as it's used for the entire series. There may be some fun public shaming if you forget it but we'll take care of you and write up a temporary one for the race.
See you next Monday!
P.S. Currently the weather looks to be mostly sunny with a high temp of 89. Plenty of time for that to change but figured I'd give you a heads up 🙂