A few people are getting together to do part of the After The Leaves course as a training run on Friday 10/24. We'll meet at the top of Minnewaska a little before 3:30pm where the race will start. The plan is to skip the first out and back loop and head out towards Lake Awosting but instead of going around it like the race, since it's mainly flat, we'll head straight up to Castle Point, back to Lake Minnewaska and around back to the starting point. Mapped out it looks to be just about 9.4 miles. Please bring your own fluids since there won't be any on the run.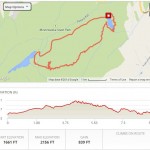 Weather currently looks good with temperatures in the high 50's and cloudy.
If you have any questions you can contact me by email or text me at (914) 456-9779.
– Christopher