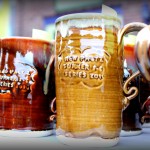 Last night saw the conclusion of the 2014 Summer Cross Country Series. Another wonderful night for everyone to go out and run the distance of their choice without that pesky clock or others to race against. Even I, the timer, got to leave the computer in the car and go for a nice 8 mile run. We had beautiful mugs for awards this year designed and hand crafted by Solveig Comer of Most Precious Pottery.
I'd like to thank all the amazing volunteers, without them we wouldn't be able to attend to all you racers. A special thanks goes out to Beth Glace, Steve Schallenkamp, Christine Kelton & Mendy Taylor who were the race directors for the 4 races. It takes a lot of time and effort to put those races on and I'm thankful we have such a wonderful group of leaders.
I'd also like to thank Charlotte Kopp for taking pictures at the races. She recently posted up her pictures from last weeks Blueberry Run – Photos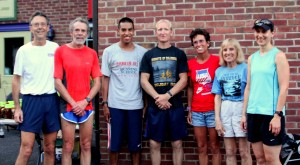 Here's a link to a few pictures I took at the Fun Run last night – Photos
Finally I'd like to put a plug in for the Rock and Snow "Bridge 2 Bridge" Run that is coming up on Saturday August 9th, 2014.  It's a benefit run for the Mohonk Preserve. There is no day of registration so make sure you sign up early.
After The Leaves will be coming up in November and is the last of the Shawangunk Runners races for the year. Keep an eye out for a post on that.
Thanks again!